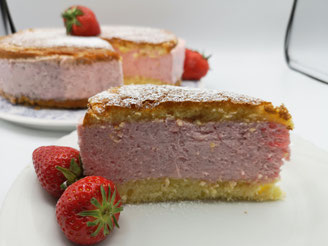 Strawberry cream cake
For a 26 cm cake:
Ingredients:
4 Eggs
4 Tbsp cold water
90 g powdered dextrose
100 g corn sugar
2 TL Vanilla sugar
80 g spelt flour
80 g corn flour
2 Tsp baking powder
500 g strawberries
100 g powdered dextrose
50 g corn sugar
2 sheets red gelatin
8 sheets white gelatin
500 g cold whipping cream
Directions:
Pre-heat the oven to 180 degrees. Line the backing tin with greaseproof paper.
Whip the eggs with the water, corn sugar, dextrose and vanilla sugar for at least 10 minutes
Sieve the flour with the corn flour and baking powder.
Carefully mix the flour mixture under the egg mixture.
Pour the mixture into the prepared tin and bake for approx. 30 minutes
Remove from the oven and allow to cool
When it has cooled down, slice the cake base in the middle to make a top and a bottom
Place one of the bases on a cake platte and surround with a cake ring.
Wash the strawberries and cut into small pieces. Puree with strawberries with the powdered dextrose and corn sugar. Depending on how sweet they are, you may need more or less sugar.
Prepare the sheet gelatin as in the instructions on the packet. Squeeze them out and gently heat until they have dissolved. Add 2 tbsp of strawberry puree und mix well. Add this mixture to the rest of the purried strawberries and leave to set slightly.
Whip the cream until stiff and carefully fold under the strawberry puree.
Spoon the strawberry cream on top of the cake base and place the other base on top.
Refrigerate for at least 2 hours
Decorate with corn sugar or strawberries...enjoy!!